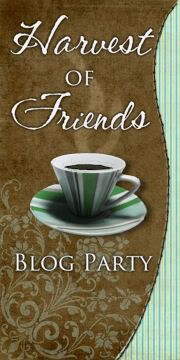 Lynnette over at Dancing Barefoot on Weathered Ground is hosting a blogging party. How fun is that? All you have to do is answer any or all of the 20 questions and link up. She is giving away some great prizes. What better way is there to meet new blogging friends?
Lynnette is one of my favorite blogs to read. She lives in an old house with her husband and children. She is God warrior. She is crazy and funny. She is someone that you want to hang out and drink tea with. I wish I knew her in real life. She represents the woman I would love to be. Go over to her sight and check her out by clicking here. You may just want to join in all the fun.

1. What is your favorite thing to snack on while you're blogging?
I normally don't snack on anything while blogging but if I had a choice it would be trailmix. You know the kind with peanuts, raisins, and m&m's. I wish I had some in the house right now.
2. What is one thing you wouldn't want to live without?
The one thing I just cannot live without is my planner. If I lost it I would be totally lost.
3. Beach, Mountains or Farm? Where would you live if you had a choice?
If I had my choice I would love to live on a farm. The quiet and peaceful mornings. The wide open space for Jacob to run around. Life without the hussle and bussle of traffic and playdates and birthday parties is right up my alley.

4. What's your least favorite chore/household duty?My least favorite chore would be washing the dishes. Some how I end up more wet and the kitchen ends up being so messy when I do the dishes.

5. Who do people say you remind them of?
When I had blonde hair people said I reminded them of Sarah Chalke from Scrubs.
Other than Sarah Chalke when I was 16 and in driver's ed my instructor kept telling me I was just like Phebe from Friends. I don't think that was a compliment. Maybe it was I like her.
6. Prefer parties and socializing or staying at home with the fam? I prefer staying home with the fam. You can wear your pajamas, snack on popcorn, and cuddle on the couch with the people you love. What can be better than that?


7. What's your all time favorite movie?
My all time favorite movie is The Notebook. I could watch that movie over and over again.

The best line comes from Noah .... Here it is ... "I am nothing special; just a common man with common thoughts, and I've led a common life. There are no monuments dedicated to me and my name will soon be forgotten. But in one respect I have succeeded as gloriously as anyone who's ever lived: I've loved another with all my heart and soul; and to me, this has always been enough."
---
8. Do you sleep in your make up or remove it like a good girl every night?
I am a bad girl. I always want to wash my make up off before I go to bed but mostly I just sleep in it. My pillows aren't in good shape because of it either.


9. Do you have a hidden talent or a deep desire to learn something that you've never had a chance to learn? What is it? My hidden talent would be I can say the alphabet backwords. Is that a talent. Maybe not but the one thing I really want to learn how to do is sew. I am making strides in doing it but I do need a sewing machine. That would help. I did sew a button on a shirt the other day.


10. What's one strange thing you're really good at?
Oh this is a good one. I can't wait to read what everyone else has to say. Is organizing strange? Cause I can do that really well. Using my organization is a different story.
11. What first attracted you to your spouse?
I am not married but I have been dating Dan for a year and a half. We worked together for two years before we went out. I never would have thought him and I would be together. I always told people I would never date anyone older than me, divorced, or someone who had a child. I figured it would just complicate things. But one night we were hanging out and he turned to me told me he had wanted to do this for two years and then just kissed me. After that he had me hook, line, and sinker.
12. What is something you love to smell?
I love to smell a match after it has been blown out or a candle that has been blown out. I just love it. I also love treats baking in the oven.
13. Tell something about you that you know irritates people.
I love to talk about anything and everything. When I was still working at CCA John and I worked in the same office. He wasn't a talker and I would talk all day long. I know I drove him crazy.
14. When you have extra money (HA!) what's the first thing you think to do with it?
If I had extra money I would either be buying a fantastic camera or a sewing machine. Right now I would be happy if I could buy a bunch of new books and a pair of jeans.
15. Are you a silent laugher or a loud laugher? What makes you laugh the hardest?
I am a super loud laugher. I get it from my mom. The thing that makes me laugh the hardest is a super funny movie like Elf.
16. Where is your favorite place to shop?
My favorite place to shop is either Target or Von Maur. I always end up buying more than I should.
17. What's one thing you'd do more often if you had more time?
I would blog more. I think I always have so much to say but when it comes time to write it all out I go blank. I would also read more and do more fun stuff with Jacob.
18. Are you a big spender or frugal? I used to be a big spender. Not that I would spend a lot but if I wanted a new shirt I would buy it. Now since I am not working I am super frugal.


19. Who is your favorite character of all time (from a movie or book)?
(Can't be real)
My favorite character of all time is Angel from Redeeming Love. She reminds me that no matter what mistakes I have made God loves me and wants really good things for me.
20. Would you want to be famous?
I wouldn't mind being famous. Not Hollywood famous but activist famous. I would love to be a voice for those who don't have one. I would also love to be able to have the ability to help people by using my status.
Wow ... I loved those questions. Ok it is your turn. Visit
Lynnette
and link up. I can't wait to read your answers.